Get to know our newest IP65 Dust- and Humidity-free Integrated LED Fixtures!
13/0. Jul 13
Average reading time is 5 minutes

In this article:
---
What does the IP65 designation mean in the description of the LED armature?
The number marked after the LED armature products with IP protection, in this case (IP65), the first number indicates protection against dust, and the second number indicates protection against water. Luminaires with this protection also provide protection against splashing water, so they can be installed in wet rooms as well as indoors and outdoors.
In addition, thanks to the high IP protection, they can also be used safely in damp, cool environments.
What makes the Asalite IP65 integrated led armature special?
At both ends of the Integrated Armature there are gland connection points, making it very easy to line up and wire. Asalite's premium led armature models are able to be linked in an exceptionally high number.
One end of the integrated LED armature is also fitted with a locking plug, so that even if the luminaire is not lined up, it retains its IP65 protection.
The installation of the integrated LED armature is simple: for easy installation, the armature is equipped with all the necessary fixing clips, so the light fixture can be simply clicked on. The integrated LED armature can be placed on the wall, outside the wall, with ceiling mounting or even with a hanging solution.
Since the integrated led armature is also recommended for everyday use, we recommend the product for office buildings, warehouses, meeting rooms, public institutions, schools, also in rooms where the luminaire is exposed to excessive humidity and dust, e.g. in car workshops, carpentry workshops, factories, production lines.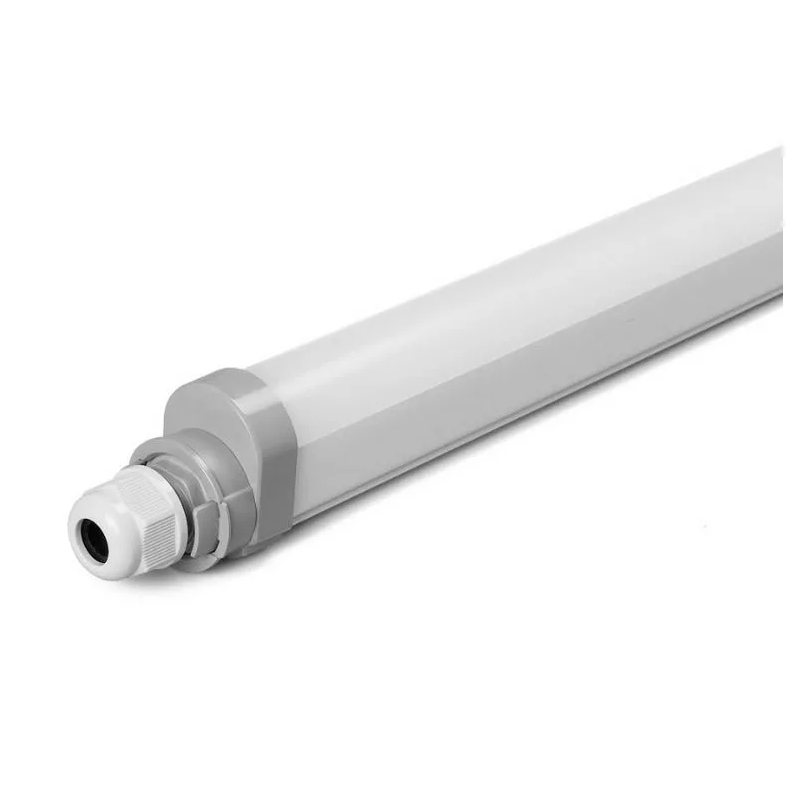 Integrated LED armature with gland connection point
Asalite integrated led armature technical data
Mains requirement: AC 220-240 V
Frequency: 50/60 Hz
Lifetime: 25,000 hours
On/Off Cycles: 12,500
Shade color: opal
Technology: SMD LED
Product color: white/grey
Lighting angle: 120 °
Light utilization: 111 lumens/watt
Color rendering factor (Ra) >80
Performance factor: (Pf) >0.7 and >0.9
Operating temperature: -15 °C- +40 °C
LED armature product weight: 330 g - 500 - 550 g
Energy class: E
Warranty: 3 years
An outstanding number of led armature models

Did you know? 
Our Asalite integrated LED fixtures can be linked/wired in an outstanding number on the market, so they can be used to illuminate large spaces with ease:
ASAL0268 integrated led armature 18W: 120 pieces can be lined up next to each other
ASAL0269 integrated led armature 36W: 60 pieces can be lined up next to each other
ASAL0270 integrated led armature 50W: 42 pieces can be lined up next to each other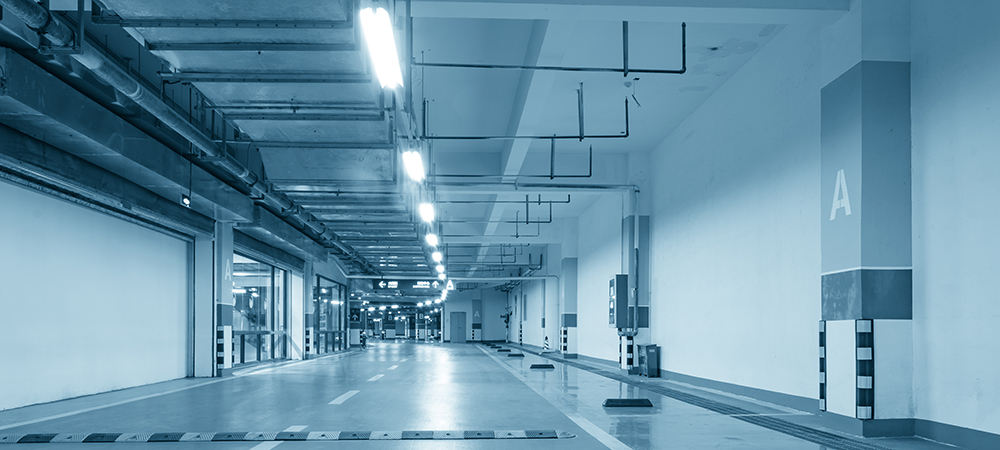 The integrated LED armature is also a perfect solution for lighting the parking space
Issues of lighting large spaces with integrated LED fixtures
The lighting of huge spaces, such as production lines, factories, warehouses, assembly halls, auto and other assembly workshops, must meet special requirements. Adequate lighting: facilitates the completion of all work processes, can reduce the occurrence of workplace accidents, positively affects the productivity of employees and the everyday work ethic. In addition, it helps to maintain focus for work in the long term, whether it is a morning or evening shift.
Different work areas result in different lighting requirements:
Pursuant to the MSZ EN 12464-1 standard, regulations define the different lighting levels required for work, which can be achieved with integrated led armature models:
In the case of rough assembly work, it is necessary to ensure a sufficient brightness of 300 lux.
For moderately fine assembly work, a light intensity of 500 lux is required.
When carrying out delicate assembly work, 750 lux is required for uniform illumination of the work surface with highlighted lighting of the workpiece.
Carrying out precise work requires higher lighting for concentrated work, so it is recommended to ensure a brightness of 1000 lux.
Electrical workshops, testing and adjustment work are work processes that require artificial lighting of 1500 lux.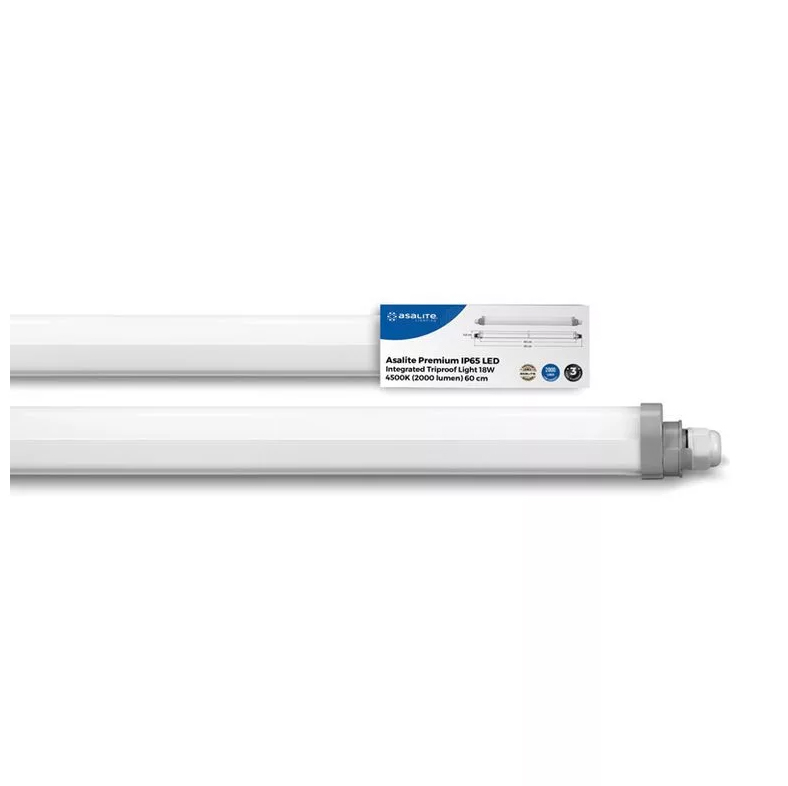 Integrated led armature with IP 65 protection
What are the tasks of lighting design?
Energy savings (by choosing the right lighting equipment)
Reduction of maintenance costs and maintenance work time
Improve productivity by ensuring the right lighting level.
Effective lighting design (with the right amount of lighting fixtures)
Assessment of lighting needs (assessment of work processes)
Determination of lighting method (equipment technologies)
Selection of lighting equipment
Creating a lighting plan
After implementation, checking the installation and creating a report on the works
When determining the method of lighting, the following factors should be taken into account:
the amount of lighting required
degree of dazzle
the size and layout of the area to be illuminated
the geometry of the space to be illuminated
spatial elements to be emphasized
direction of light
relationship between artificial and natural light
material framework of realization
The connection between lighting technology and work
When designing the right lighting, we must take into account that the light reaches the work area in a focused manner - because diffused and undirected light makes spatial perception difficult. Strong light falling from a specific direction (such as a window) is a condition for the correct shadow formation.
Focused light should not be too strong in those - as it can create deep shadows, which obscure some of the objects that are important for orientation and can therefore pose an accident hazard.


Did you know?
Lighting studies have shown that stronger lighting in the workplace can lead to better worker performance, lower fatigue levels and therefore less absenteeism and much less absenteeism.